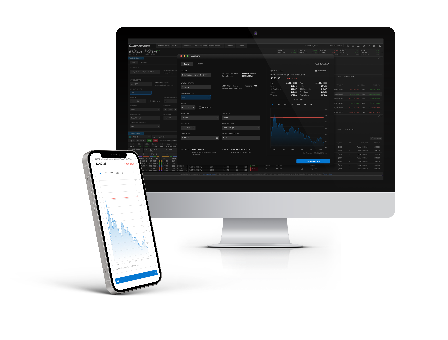 Quotestream Connect
Reduce time to market, startup costs and gain operational efficiency with Quotestream Connect market data infrastructure as a service.
This website is not available on mobile. Please try again on a desktop or tablet to get full access.
OVERVIEW
FEATURES & CAPABILITIES
ENGAGEMENT
Quotestream Connect
Market data infrastructure as a service.
Fully hosted and managed end-to-end market data infrastructure solution delivering robust REST and Streaming APIs in addition to web content solutions.
Seamlessly integrated registration workflows with per-user subscription reporting.
Scalable to meet your product or service market data requirements.
Business Lines
1. WEALTH PORTALS
2. SOFTWARE VENDORS
3. FINTECH APPS
4. TRADING FIRMS
5. SELF DIRECTED BROKER DEALERS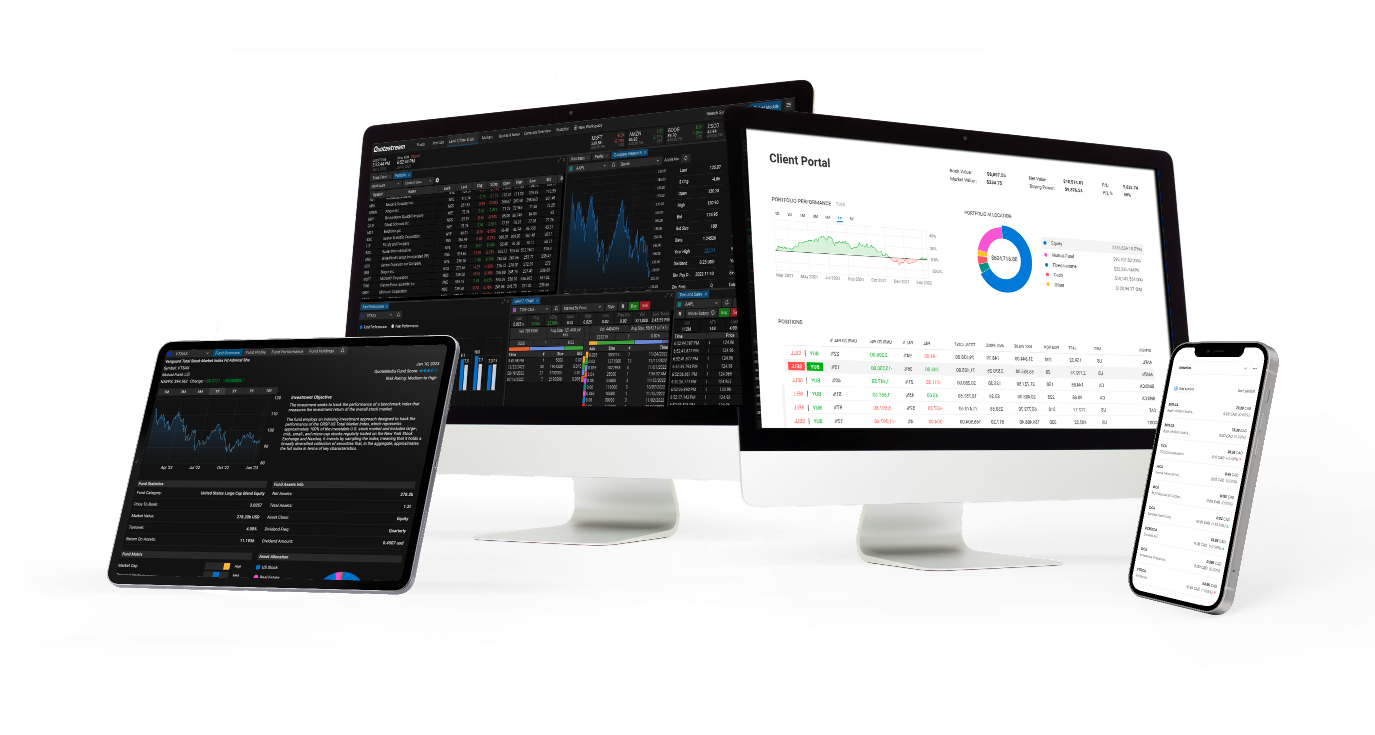 Market Data Infrastructure as a Service
Quotestream Connect supports several data delivery solutions that simplify access and licensing to meet the demands of global financial market participants. Providing controlled delivery and transparent reporting of mission critical financial market data.
DATA MANAGEMENT
Global Data:
Access global multi asset class price data, financials, reference and news from one source.
WEB CONTENT SOLUTIONS
Financial Widgets:
Web content solutions available to create intuitive financial dashboards and research centers.
DATA DELIVERY
Modern APIs:
Connect to Streaming or REST APIs and receive the data required to power your platform and meet user requirements.
USER MANAGEMENT
Reporting and Entitlements:
Control per user data permissions and exchange fee subscriptions to seamlessly manage user entitlements.
Data Management
Quotestream Connect is the ultimate financial data platform for builders of solutions that serve market participants globally. Unmatched data access and user driven data management.
FINANCIAL MARKET DATABASE HIGHLIGHTS
On Demand access to historical and current financial market information.
Historical Price Time Series - Tick, n-Minute, EOD
Financial Statements - Quarterly and Annual Reports
Fundamentals - Ratios, Profile, Insider Transactions
Corporate Actions - Splits, Dividends, M&A
Fund Data - NAVs, Dividends, Profiles, Holdings
Options Data - Chains, Greeks, Open Interest, Volatility
News - Press Releases, Market Commentary, Top Headlines
DATA MANAGEMENT
Managed solutions for managing user driven data.
User Portfolio Hosting and Management
User Alert Settings, Management and Delivery
Data Delivery
STREAMING:
Price feeds delivered through modern lightweight APIs or Websocket.
Level 1: Real-time tick by tick, Bid/Ask, or NBBO/CBBO
Options Price Data: Options Chain, Open Interest, Greeks, and Implied Volatility
Level 2 / Market Depth: Order Book, Aggregated or Full Book
REST APIS:
Snapshot financial data on demand.
Price data: Snapshot Real-Time, Delayed or End of Day
Fundamentals: Key Ratios, Sector and Industry, Market Cap
Financial Statements: Balance Sheet, Income Statement, Statement of Cash Flow
Corporate Events: M&A, Earnings Announcements, Dividends, Splits, Insider Transactions
News - Press Releases, Market Commentary, Top Headlines
Web Content Solutions
Configurable content widgets (QMod) that allow development teams to embed financial data within their solutions.
Build financial dashboards and workflow solutions
Seamlessly integrated and customizable for your application
Fully hosted and managed
User Management
Build reports and seamlessly manage user entitlements in real-time.
User Registration
Exchange Compliance and Regulatory Reporting
User Settings and Data Access Management
Account Management
User Portfolio Management
User Alerts Management and Delivery
Onboarding
QuoteMedia's flexible product and integration process provides a tailored structure to be supported with multiple vendors solutions within the same application. Quotestream Connect can be integrated into simple and complex workflows according to your project requirements. The integration format offers a series of implementation sessions with product, technical and business teams.
SCOPE
Goals and deliverables are established. Project plan and milestone are defined.
---
SSO
Mapping
Add Documentation
Features
Logic
Platform
DESIGN AND ARCHITECTURE
User experience coordination with frontend visualizations.
---
UI UX Adjustments
Architecture Adjustments Backend
Architecture Adjustments Frontend
DEV OPS
Coordinating frontend and backend development teams.
---
Backend Development
Frontend Development
Unit Testing
Quality Assurance
LAUNCH AND SUPPORT
Ongoing continuity and proactive support.
---
Release Flow
3 Tier Customer Support
Dev Ops
Why Choose Us
Quickly integrate global market data and financial information within your products. Our enterprise grade solutions help development teams access global data with complaint user reporting and data permissioning.
REDUCED TIME TO MARKET
Simple API support to access multiple asset classes from global exchanges and related financial market information.
FULLY CUSTOMIZABLE
Tailored packages to meet your products features and client requirements. API, content solutions and managed services.
USER MANAGEMENT
Seamlessly integrate user onboarding by API or whitelabel forms. Control user data permissions and create user reports.
Clients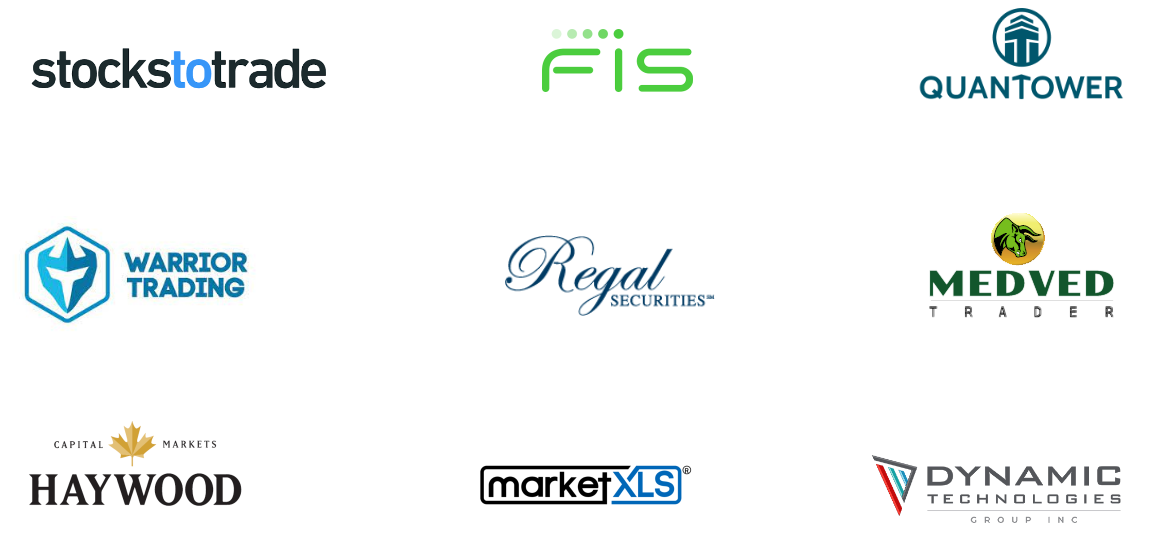 Endorsements
Our exhaustive search for the best provider of integrated financial content and streaming financial data solutions for our clients led us directly to QuoteMedia. QuoteMedia's uniquely customizable technology and extensive market data feature-set enables us to provide a fully integrated broker workstation and market data terminal to brokers and financial advisors. With QuoteMedia's superior technology in place, our clients can more effectively cater to their existing customers and attract new ones.
TERRY THORSEN
SunGard President

By combining QuoteMedia's comprehensive data and research coverage, as well as the educational and networking capabilities available from our instructors and the Warrior Trading community, we are truly able to provide our trading students with the best path to success. QuoteMedia has been a great partner and wonderful to work with. They have shown a real commitment to meeting our needs. We are also very pleased with the quality, coverage, and particularly the stability, of their products.
BILL SCANLIN
Warrior Trading CTO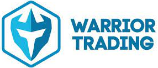 Contact QuoteMedia
QuoteMedia has been providing market data, financial technology and research solutions since 1999. It would be our pleasure to review your current market data implementation and help your team tailor the best solution to future proof your business.
Please contact QuoteMedia to access one of our knowledgeable account representatives to help solve your market data and financial technology requirements.