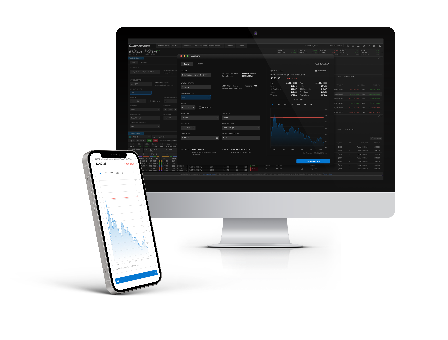 QuoteMedia Content Solutions
QMod is an extensive product line of dynamic financial information web widgets. QuoteMedia's web tools are fully customizable and seamlessly integrated within existing websites and applications to build advanced user workflows.
This website is not available on mobile. Please try again on a desktop or tablet to get full access.
OVERVIEW
FEATURES & CAPABILITIES
ENGAGEMENT
QuoteMedia Content Solutions
QuoteMedia's proprietary SaaS financial content solution, QMod, provides a wide array of market data content solutions that enable teams to build intuitive financial workflows. Preconfigured plug-and-play solutions are available in addition to completely customized tools to meet any projects requirements.
QMod offers secure per user market data and content module provisioning offering development teams unlimited customization.
Financial Dashboard Solutions
QuoteMedia is a leading market data provider and developer of SaaS financial information solutions. Our team designs, develops and hosts modern financial content, research reports, tools and applications.
WHITE LABEL
Design intuitive workflows that display financial information, reinforce brand and integrate seamlessly with existing platforms.
PERSONALIZATION
Utilize data to present complex information and guide users to make informed decisions.
MARKET DATA PROVIDER/CONTENT AGNOSTIC
Tap core global market data, news, research and proprietary information from QuoteMedia and a range of 3rd party contributors.
ELASTIC BACKEND INFRASTRUCTURE
Core architecture is scalable and leveraged across clients. Providing a faster time to market and superior performance.
Business Lines
1. WEALTH PORTALS
2. SERVICE PROVIDERS
3. MEDIA
4. FINTECH APPS
5. SELF DIRECTED BROKER
6. INVESTOR RELATIONS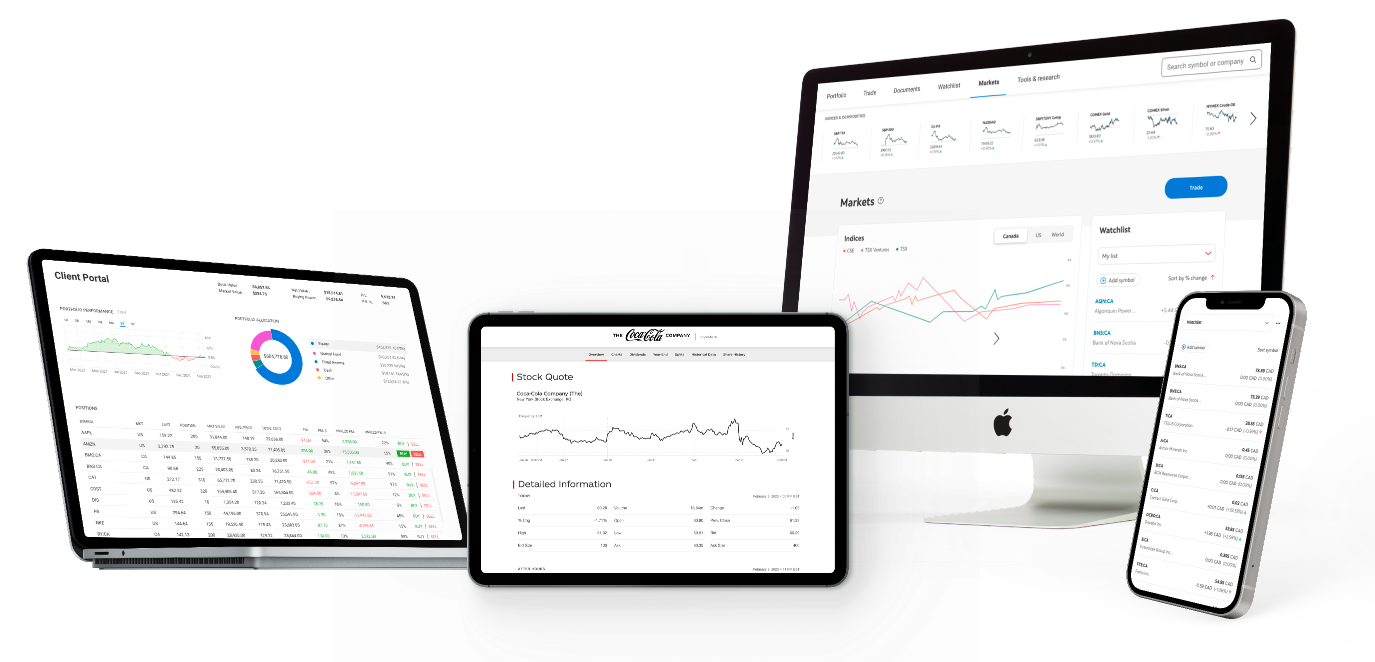 User and Exchange Entitlements
Pair QMods with QuoteMedia's user management system to control user data permissions and exchange fee subscriptions. Access monthly reports and seamlessly manage user entitlements instantly.
Smart Search
Search by ticker symbol and keyword to quickly discover an asset to research.
Multi-asset search
Global exchange support
Autocomplete
Charts
1. BASIC CHARTS
Lightweight snapshot of intraday price movement or historical time series.
2. ADVANCED CHART
Add common standalone and overlay indicators, choose different chart types and time frames.
3. INTERACTIVE CHARTS
Overlay corporate events, build comparison charts, slide and zoom on time series.
4. TECHNICAL CHARTS
Fully loaded streaming charts. Tools that active traders demand. Hundreds of indicators and drawing tools for the most advanced market participant.
Portfolios & Watchlists
QMod supports several portfolio & watchlist tools with a range of functionality, from a simple user editable watchlist to the display of a user's portfolio profit and loss tracking with advanced analytical features. Our portfolio & watchlist tools provide value for investors by making complex evaluations easy to visualize and interpret.
QuoteMedia provides fully managed portfolio and watchlist solutions by hosting user data anonymously or API integration of user data.
MULTIPLE ASSET TYPES, MULTIPLE CURRENCIES
QMod widgets support transactional portfolios with a variety of asset types including equities, ETFs, mutual funds, bonds, cash and more. Holdings can be valued in multiple currencies (e.g. MSFT in USD and BB in CAD) and the entire portfolio valued in a single currency.
PORTFOLIO ANALYTICS
Performance, Transactions, Fundamentals, Estimates, Research, Charts.
PERSONALIZATION
Display news, corporate actions and other events related to holdings held within a portfolio.
Market Research
Visualizations that represent an intraday snapshot overview of the markets, their status and notable market events.
MARKET OVERVIEW
Indices
Commodities
Forex
Cryptocurrency
Bonds
Interest Rates
MARKET MOVERS
Top Gainers
Top Losers
Volume Leaders
52 WEEK RANGE
Market Calendars
Allow users to view and filter for corporate events happening on their holdings and across all equities markets.
IPOs
Earnings
Dividends
Splits
Screeners
Market screener modules enable investors and traders to choose criteria and screen for stocks, ETFs or mutual funds based on their defined metrics. Screeners provide users with a choice to select trading instruments suitable for their trading objectives.
Equity Research
Individual, detailed equity research, when combined, offer in-depth analysis of an asset, its historical performance, and its related peer group.
Company Profile
Share Performance
Historical Prices
Insider Transactions
Peer Comparison
Financials
Current and historical overview of annual and quarterly financial statements.
Income Statement
Balance Sheet
Statement of Cash Flow
Key Financial Ratios
Company Fundamentals
Earnings Estimates
KEY FINANCIAL RATIOS AND FUNDAMENTALS
Profitability: Gross Margin, EBITDA Margin
Liquidity: Quick Ratio, Total Debt to Equity
Management Effectiveness: ROE, ROA, ROC
Valuation: P/E, Book Value
Dividend: Yield, Growth, Ex-Date
CORPORATE PROFILES
Headquarters, Key Personnel, Sector & Industry
OWNERSHIP
Insiders
Stock & Option Transactions
Equity Scores
QuoteMedia derives its own proprietary Analytics Scores to analyze and rate publicly traded companies based on several financial, fundamental and technical metrics.
INDIVIDUAL SCORES:
Credit
Dividend Quality
Earnings Momentum
Price Performance
Technical
Valuation
Financial Performance
Capital Efficiency
Growth
Liquidity
Profitability
Analyst Data
Check the current consensus from Wall Street or Bay Street, and view the history of analyst recommendations with respect to companies on all major North American Exchanges.
Consensus Rating Average
Consensus Rating Details
Consensus Rating Industry Comparison
Individual Analyst Recommendations
Recommendations History
Earnings
Earnings estimates and actuals provide insightful information on the financial health of a company in determining its value. QMod earnings modules provide users a clear snapshot of:
Historical Quarterly and Annual Earnings
Earnings Announcement Dates
Current Target Price
Target Price History
Consensus EPS Estimates Trend
Earnings Surprise
Filings
Company Filings allow site visitors complete access to all of a company's financial reports, as well as a host of other filings, to better understand the current financial position of the company, and any material events that might affect it. QMod widgets are maintenance-free, automatically updating your site with new filings as they are released.
United States: SEC
Canada: SEDAR
London: FCA
Hong Kong: IIS
Filings documents can be returned as XBRL, HTML, Word doc, PDF, iXBRL, or Excel
Options
Option Chain modules and widgets list all of the put and call option strike prices along with their bid-ask quotes for a given maturity period.
VISUALIZE AND FILTER OPTIONS DATA BY SEVERAL PARAMETERS:
Regional Exchange or Composite
Strike Price
Calls, Puts or Both
At the Money, Out or Near the Money
Expiration
Most active options
Greeks (Delta, Gama, Theta, Vega, Rho)
Fund Research
QuoteMedia Fund Research (QMFR) provides a comprehensive database offering detailed insight into U.S. and Canadian Mutual Funds, Exchange Traded Funds and other fund investment products.
The QMFR database supports over 100,000 share classes including access to Fund Returns, Daily Net Asset Values (NAVs), Allocation and Holdings, Risk Statistics, Benchmarks, Investment Objectives, Distributions, Documents (fund filings & prospectus), Fund Events (mergers, liquidations, name changes, cross-reference changes and classification changes), Historical Data and more.
TYPES OF FUNDS COVERED:
Equity Funds
Fixed Income Funds
Asset Allocation Funds
Index Funds
Target Date Funds
Money Market Funds
Commodity Funds
Environmental, Social and Governance (ESG) Funds
Unit Investment Trusts
Exchange Traded Funds (ETF)
Hybrid Funds
And more
Quotes
QMod modules support real-time granular data and visualizations that allow users to track the following price action on the assets they monitor:
Level 1 & Level 2 Quotes
Trades / Time and Sales
Market by Price
Regional Quotes
Regional Volume
Net House Summary
Alerts
Tailored Event Notifications
From the user's perspective, our alert function is simple and intuitive. User schedules an alert, it triggers, and a message is sent to the user when the event occurs.
Users can receive alerts to their desktop, tablet or mobile phone, informing them of a wide variety of market activities including:
52 Week High/Low
Volume Alert
Price Quote Alert
Price Change Alert
News Alerts
Filings Alerts
END OF DAY SUMMARY
Provides a user the option to subscribe to a summary for the selected symbol at the end of each market day.
Custom Indices
Reduce internal data processing and let QuoteMedia support your benchmark methodologies and manage each of your benchmarks in our database. Each benchmark is assigned a ticker and can be made discoverable through our APIs and content modules for users to access intraday and historical prices, constituents & weightings, analytics and more.
Onboarding
QuoteMedia's flexible product and integration process provides a tailored structure flexible to be supported with multiple vendors solutions within the same application. QMOD modules can be integrated into simple and complex workflows according to your project requirements. The integration format offers a series of implementation sessions with product, technical and business teams.
SCOPE
Goals and deliverables are established. Project plan and milestone are defined.
---
SSO
Mapping
Add Documentation
Features
Logic
Platform
DESIGN AND ARCHITECTURE
User experience coordination with frontend visualizations.
---
UI UX Adjustments
Architecture Adjustments Backend
Architecture Adjustments Frontend
DEV OPS
Coordinating frontend and backend development teams.
---
Backend Development
Frontend Development
Unit Testing
Quality Assurance
LAUNCH AND SUPPORT
Ongoing continuity and proactive support.
---
Release Flow
3 Tier Customer Support
Dev Ops
Why Choose Us
Rapidly develop financial data dashboards confidently with QuoteMedia on Demand SaaS content widgets. Our enterprise grade solutions help product teams execute complex financial transformation projects.
REDUCED TIME TO MARKET
SaaS financial technology solutions that enable digital transformation.
FULLY CUSTOMIZABLE
Tailored financial technology platforms and financial market data solutions. Third party data and application agnostic.
MULTIPLE PLATFORM SUPPORT
Single solution for web portals, active trade and mobile applications.
Clients
BROKERAGE | WEALTH MANAGEMENT | MEDIA | INVESTOR RELATIONS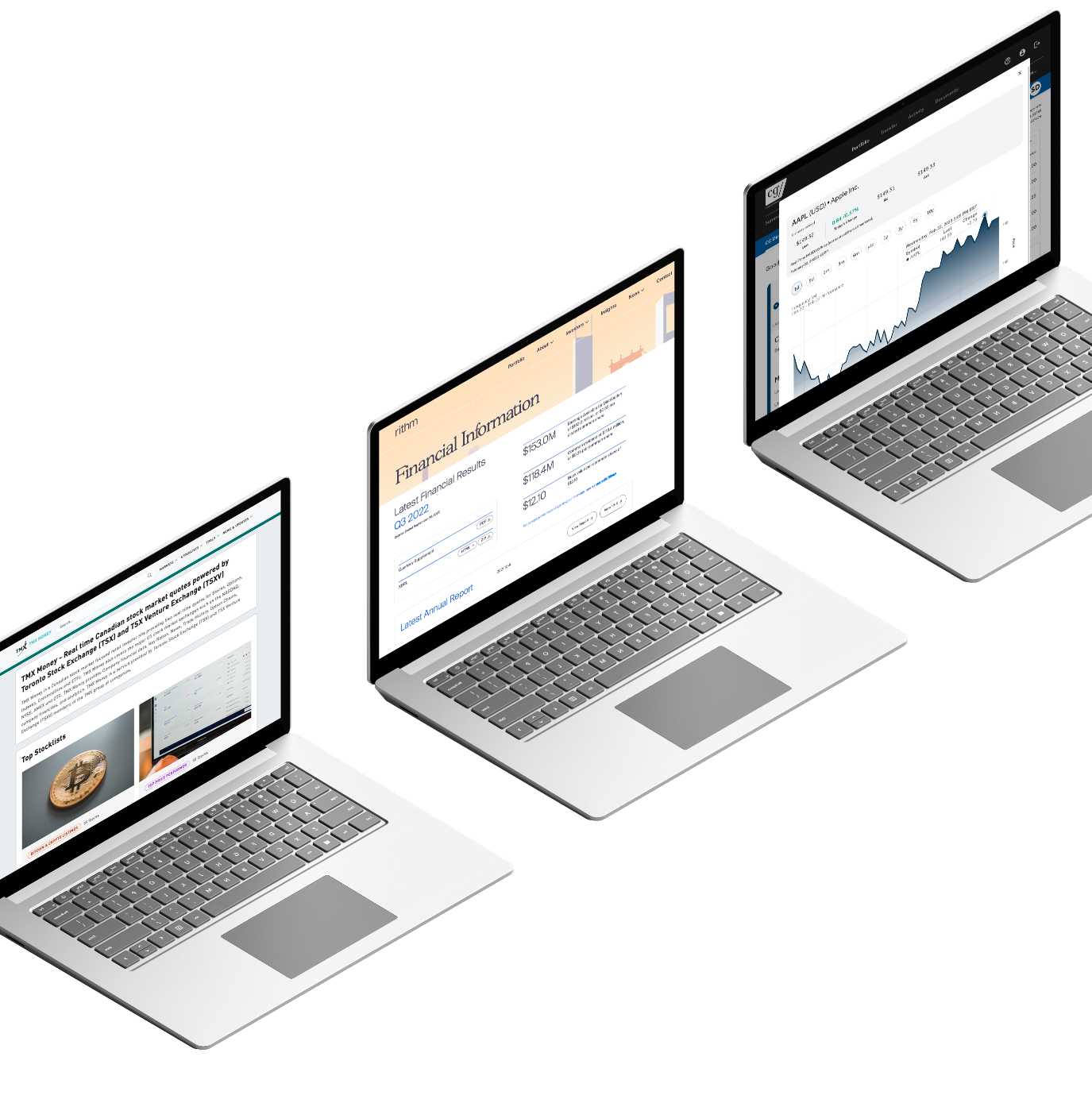 Endorsements

Working with QuoteMedia has been a dream come true. In choosing a provider of data for our index, we needed a firm that had the ability to deliver from a wide range of sources. QuoteMedia checked all the boxes and our experience to date has been excellent. Their new QMod platform looks great straight out of the box and where we have needed customization, the QuoteMedia team has been excellent in helping our development team achieve our objectives. I can say with complete sincerity that the team at QuoteMedia has been incredibly accommodating and we look forward to working with them for quite some time.
DAVID SCHER
Director

QuoteMedia is truly able to offer us the data and news that we need in a manner that perfectly matches our business model and requirements. The QuoteMedia team provides unbelievable service and support as we continue to develop and grow our relationship moving forward. The fact that the QMod widgets are designed to be responsive - automatically optimizing the display depending on the specific device a visitor uses to access the site – is a huge benefit for us, as so much of our audience views our website on mobile phones, laptops and tablets.
ADAM HEIMANN
President
Contact QuoteMedia
QuoteMedia has been providing market data, financial technology and research solutions since 1999. It would be our pleasure to review your current market data implementation and help your team tailor the best solution to future proof your business.
Please contact QuoteMedia to access one of our knowledgeable account representatives to help solve your market data and financial technology requirements.