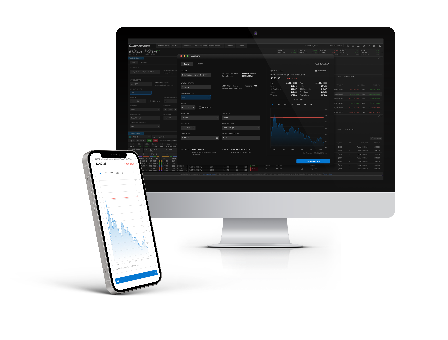 Quotestream Enterprise
Fully customizable and white labeled SaaS financial technology solutions.
This website is not available on mobile. Please try again on a desktop or tablet to get full access.
OVERVIEW
FEATURES & CAPABILITIES
ENGAGEMENT
Quotestream Enterprise
Quotestream Enterprise is a cloud based market data enterprise SaaS solution. Delivering active investors a suite of portable financial applications. Supporting the financial services community with world class access to market data, analytics, screeners, alerts, news, market research, equity research, fund research, and portfolio management tools.
All user settings and data are seamlessly synchronized across platforms. No servers to install or manage, the ideal white label solution.
Financial Dashboard Solutions
QuoteMedia is a leading market data provider and developer of SaaS financial information solutions. Our team designs, develops and hosts modern financial content, research reports, tools and applications.
WHITE LABEL
Design intuitive workflows that display financial information, reinforce brand and integrate seamlessly with existing platforms.
PERSONALIZATION
Utilize data to present complex information and guide users to make informed decisions.
MARKET DATA PROVIDER/CONTENT AGNOSTIC
Tap core global market data, news, research and proprietary information from QuoteMedia and a range of third party contributors.
ELASTIC BACKEND INFRASTRUCTURE
Core architecture is scalable and leveraged across clients. Providing a faster time to market and superior performance.
Business Lines
1. WEALTH PORTALS
2. MEDIA
3. FINTECH APPS
4. SELF DIRECTED BROKER
5. EDUCATORS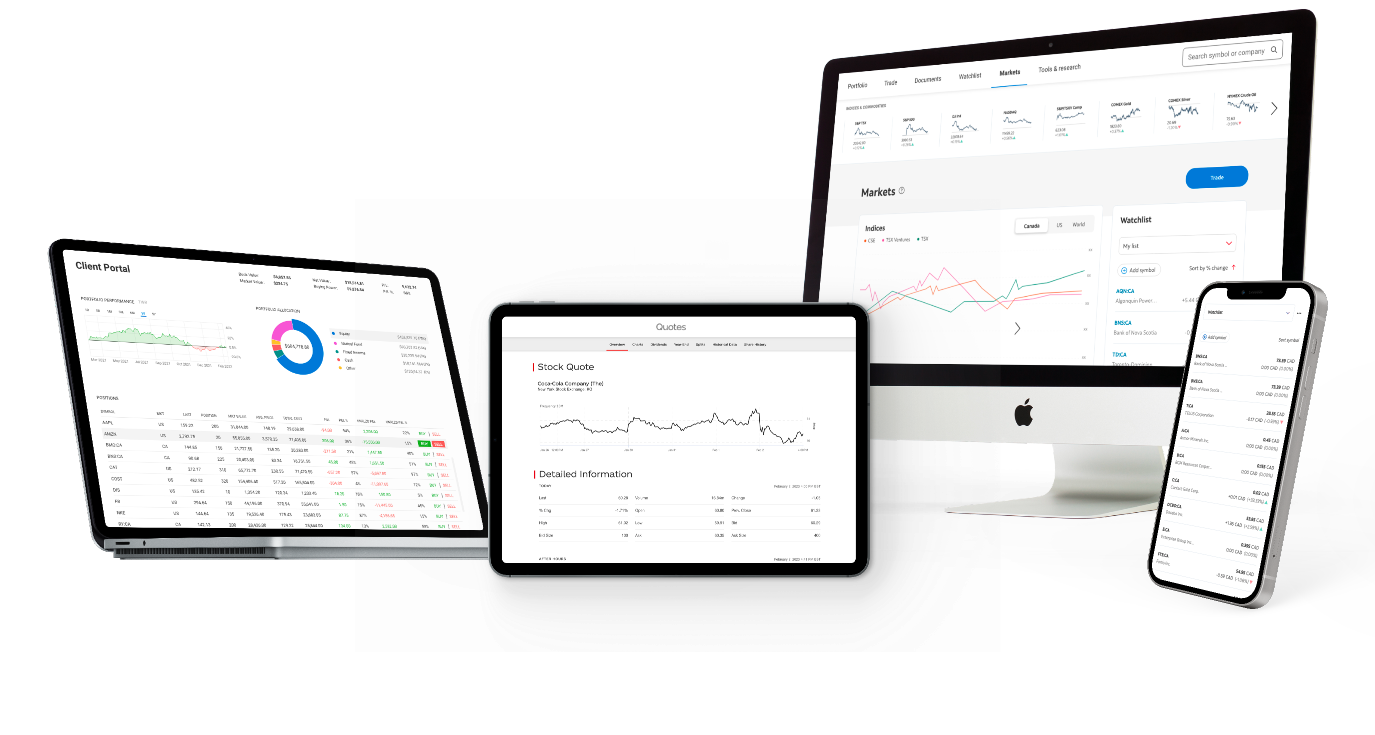 Quotestream Desktop
Quotestream Desktop is a cloud based market data platform. All user settings and data synchronize across platforms. No servers to install or manage, making Quotestream Desktop the ideal solution to manage your investments and keep track of market moving events in office, at home or on the go.
Supporting the financial services community with world class access to market data, analytics, screeners, alerts, news, market research, equity research, fund research, and portfolio management tools.
Quotestream Web
Modern web application designed for market participants that demand an advanced research platform to monitor portfolios and real-time events.
Perfect co-companion to Quotestream Desktop and Quotestream Mobile. Offering users a convenient option to access their portfolios anywhere at any time.
Mobile Applications
Never miss a market move with Quotestream Mobile solutions. Let QuoteMedia develop native Android and iOS Applications or a mobile-first website.
Quotestream Desktop, Web application, and Mobile apps work in a co-companion relationship, fully synchronizing users' portfolios and watchlists. User modifications made on one device are immediately updated and available across platforms.
User and Exchange Entitlements
Synchronize users settings across platforms with QuoteMedia's user management system to control user data permissions and exchange fee subscriptions. Access monthly reports and seamlessly manage user entitlements instantly.
QuoteMedia Content Solutions
QuoteMedia's proprietary web delivery system, QMod, provides a wide array of market data content solutions that enable teams to build intuitive financial workflows. Preconfigured plug-and-play solutions are available in addition to completely customized tools to meet any projects requirements.
Integrated Trading
QuoteMedia enables product teams to enhance customer journeys to streamline the integration and display of trade functionality within brokerage web portals, active trader, web and mobile platforms.
QuoteMedia's customizable content modules allow for quick support of single-leg, multi-leg and other complex order tickets, real-time account balance information, order status, order history, transaction reports, trading positions and account management modules.
Order Tickets
Orders
Account Overview
Client Settings
Marketplace
Explore apps and third party integrations built for financial market professionals.
Portfolio Management
Trade Intelligence
Options Analytics
Premium Data Access
And More
Clients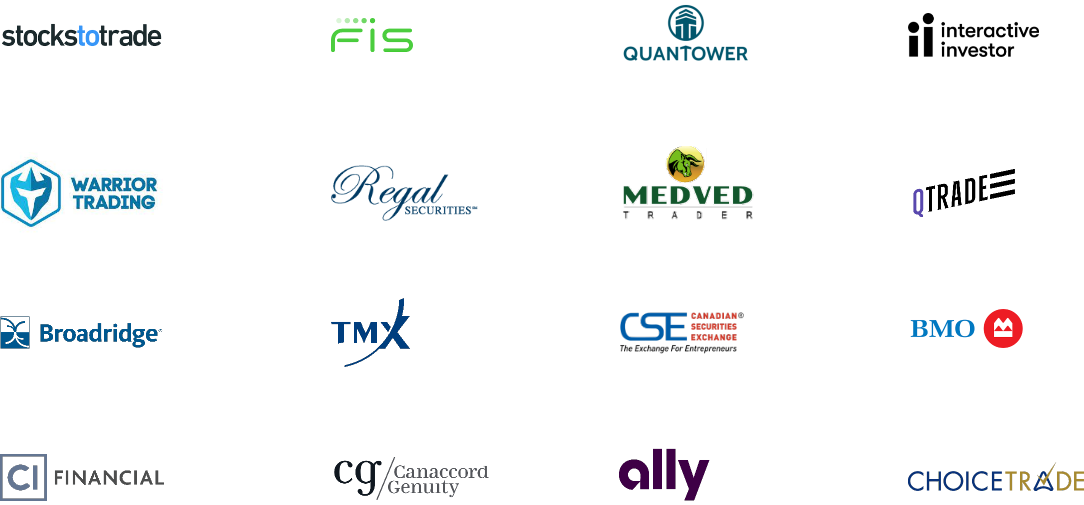 Why Choose Us
Quotestream Enterprise caters to a wide variety of financial service clients including online brokerages, clearing firms, banks, and financial portals. Our cost-effective and easy-to-manage market data and research solutions are designed to empower your users with an ever evolving suite of SaaS financial solutions.
PORTFOLIO MANAGEMENT
Track and manage your investments. Set alerts and access detailed data on your portfolio of investments. Monitor global financial markets and multiple asset classes from one powerful platform.
RESEARCH & NEWS
Comprehensive market and individual security analysis tools. Detailed equity research to track the latest filings, news and corporate events. Rich fund data and research to find funds that meet required investment criteria.
MULTIPLE PLATFORMS
Keep a watch on the markets with Quotestream's suite of platforms. Our cloud environment provides users access to their data across our desktop, web, mobile website and mobile Android & iOS apps.
Endorsements
We're excited to introduce this market-leading capability to our clients. Providing real-time financial information and portfolio management with integrated trade execution, demonstrates our commitment to helping our clients meet their goals. We conducted extensive research to find the most advanced and complete solution that could be fully integrated with our trading platform. QuoteMedia's technology provides the best solutions to our clients' needs.

By incorporating QuoteMedia's portfolio management solutions into our existing offerings, we are able to create a more robust and dynamic offering while expanding the depth of market data content made available to our clients and their customers. With QuoteMedia's superior technologies in place, our clients are better able to provide the timely, in-depth market information their customers require.
BROADRIDGE FINANCIAL SOLUTIONS

BMO InvestorLine is focused on delivering forward thinking tools and features to empower investors to make more informed decisions. We have active and high-frequency traders seeking advanced trading platform capabilities and QuoteMedia has the technology and platform ideally suited to meet these needs. We are very happy to be partnering with QuoteMedia to bring these capabilities to our investors.
DAVID MCGANN
Product Strategy Director for BMO InvestorLine

Contact QuoteMedia
QuoteMedia has been providing market data, financial technology and research solutions since 1999. It would be our pleasure to review your current market data implementation and help your team tailor the best solution to future proof your business.
Please contact QuoteMedia to access one of our knowledgeable account representatives to help solve your market data and financial technology requirements.